introduction:
wind and light complementary, is a set of power generation applications, the system is using solar cell array, wind generator (will be converting alternating current to DC) will be issued for the energy stored in the battery, when users need to use electricity, the inverter will storage battery group 2. solar panels using current conversion rate of the highest monocrystalline silicon / polycrystalline silicon solar cell plate, greatly enhance the efficiency of solar power generation, effectively improve the lack of wind resources, solar panels as a result of the conversion rate of less than, resulting in insufficient charge and can not guarantee the normal light unlit.
3. Scenery complementary with street lamp with high performance, large capacity and free maintenance gel battery and scenery complementary streetlights provide enough electricity, ensure the overcast and rainy days led scenery complementary street lamp light source of the lighting time, greatly enhance the stability of the system.
advantage:
1. Energy saving and emission reduction, saving environmental protection, without a large amount of electricity expenditure. A resource-saving and environment-friendly society has become represent the general trend. Compared with the traditional street lamp, scenery complementary streetlights to natural renewable solar energy and wind for the energy without consuming any non renewable energy resources, no to the atmospheric emissions of polluting gases, resulting in pollution emissions is reduced to zero. Come down for a long time, the protection of the environment at the same time it is self-evident, but also from the late a lot of electricity costs.
2. Exempt from cable laying works, no need to build a large number of power supply facilities. City Electric lighting operations are complex, digging trenches, laying underground pipe, pipe threading, backfilling of foundation engineering and need a lot of artificial; at the same time, transformer, distribution cabinet , switchboard etc. large quantities of electrical equipment, also want to spend a lot of money. Scenery complementary streetlights would not, every street lamp is individual, without the need for cable laying, without the need for large quantities of electrical equipment, saving manpower and financial resources to provinces.
3. Individual damage does not affect the overall situation, not affected by the impact of large area power outage. Because the ordinary street lamps are connected by cables, probably because of the individual, and the impact of the whole power supply system;
scenery complementary power generation
street lamp is not appear this situation. Independent distributed power generation system, the individual damage will not influence the normal operation of the other street, even in the face of large area blackout, also won't affect the lighting, uncontrollable loss therefore greatly reduced.
1 photo: color temperature close to the sun, can be used as a camera and lighting photography. Save a large amount of cable overhead, but also from the loss of cable theft. The remote area power grid to the popularity of street lamps installed wiring installation cost is high, and there will be a serious phenomenon of theft. Once the theft, the impact of the entire power output, a huge loss. The use of scenery complementary streetlights would not have the concerns, each street lamp independent, replacing the cable connection, even steal phenomenon will not influence the normal operation of the other lights, the losses to a minimum.
5. Intelligent control, without manual operation, simple construction, convenient maintenance . scenery complementary street lamp is controlled by the intelligent controller, can is divided into control, optical two automatic control mode, both economic and safety; without large area circuit construction disturbance to own one of the power supply system, simple process, short construction period and more convenient for the maintenance.
6.
city lighting
. As a new energy system, in cost savings and improve the stability of the system at the same time to be brightening effect, in the traditional energy to occupy most of the market today, new energy will undoubtedly become one of the highlights of the cities and communities.
7. raise people's awareness of energy conservation. The lack of conventional energy and the pollution of the environment have reached the point where we have to deal with it. Global atmospheric pollution is very serious, the use of new energy can effectively improve people's awareness of energy conservation, make our life more quality and energy-saving.
8. complementary streetlights scenery is using wind and solar powered intelligent street lamp . And it also possesses advantages of wind power and solar energy power generation of both, provide stable power supply for the city street lights.
[1.]
technical parameter adaptation light source: LED, life time: 50000~100000 hours.
2. solar panels: Single polysilicon / high conversion efficiency of solar panels, life is more than 25 years.
3. battery: valve control sealed maintenance free lead-acid battery, colloid, solar energy, service life of 3~7 years.
4. controller: microcomputer intelligent controller, anti overcharge, overdischarge, light and time control on / off, life is more than 5 years.
5. battery box: die pressed, fully sealed waterproof, have better heat insulation function, life is more than 20 years.
6. protection grade IP65.
7. working time: 6~12 hours a day lighting, Sustainable Lighting for 3~7 days, can also according to customer's request.
8. suitable for use and installation location: highway, yard, park, square.
[time]
10 hours / days, 6 hours full power mode + 4 hours of energy-saving mode, guarantee continuous 3-5 days overcast and rainy day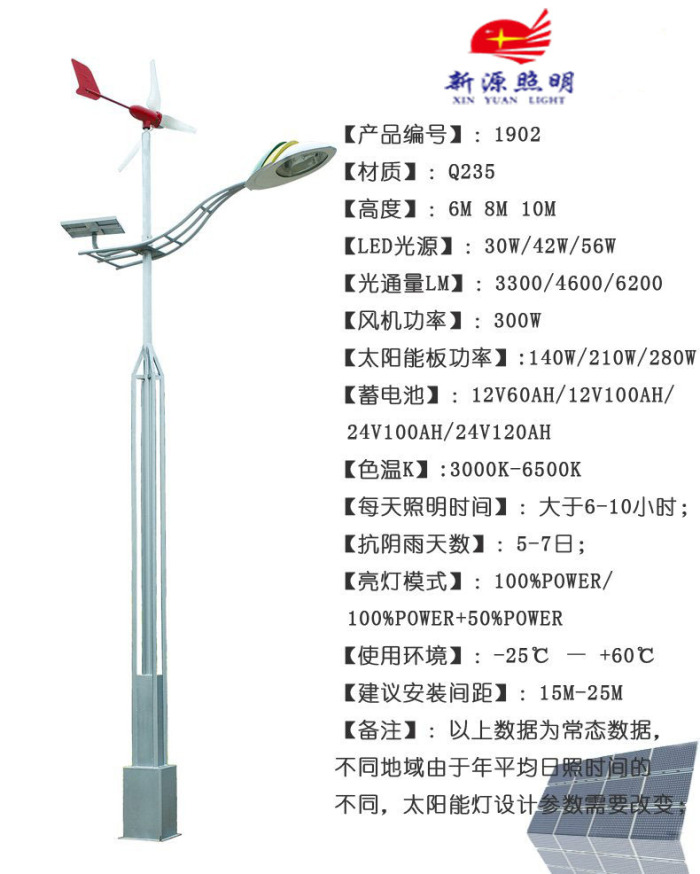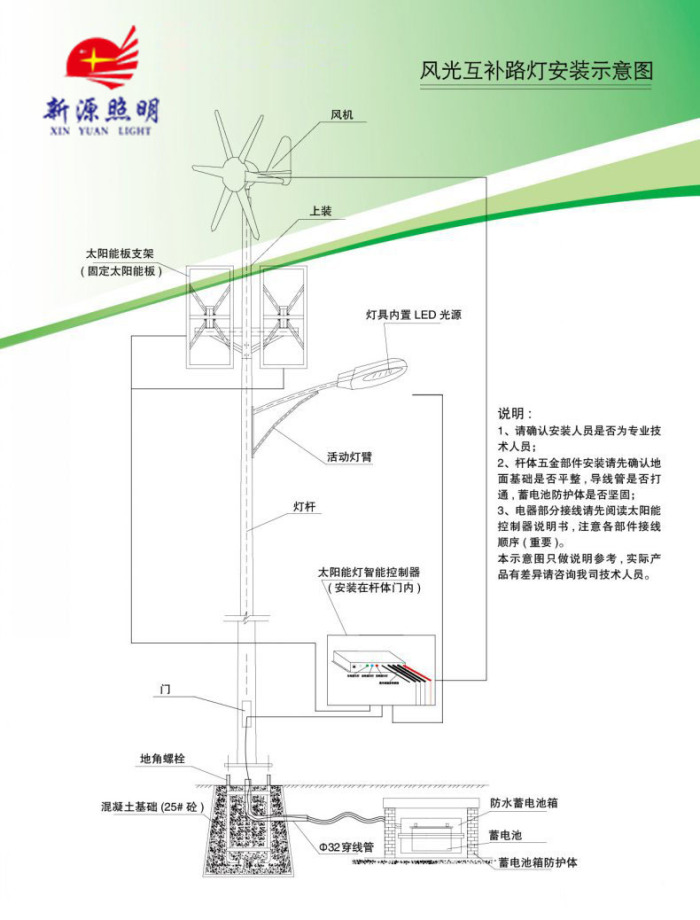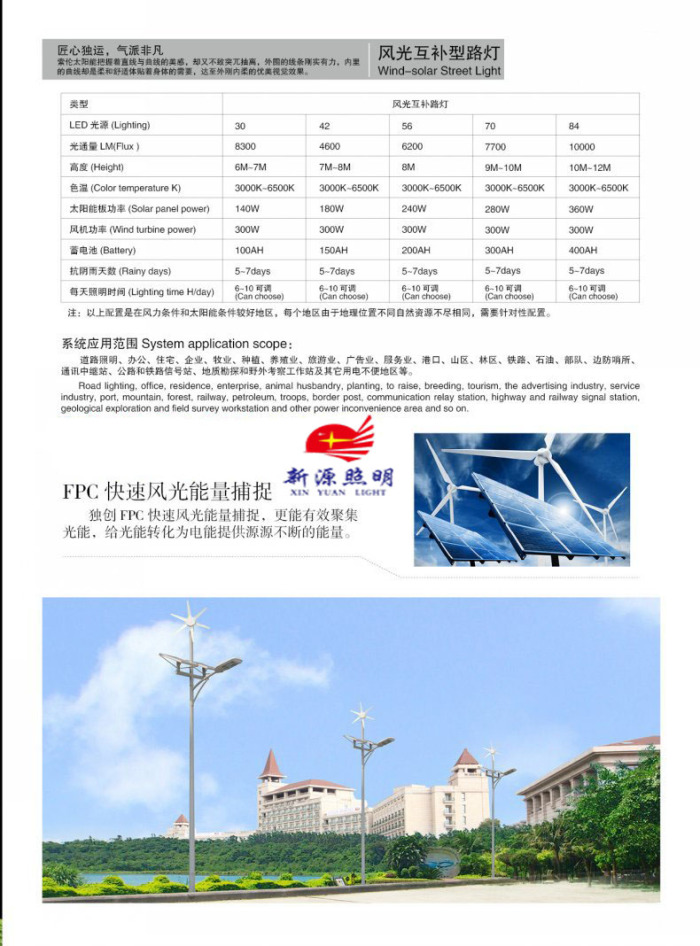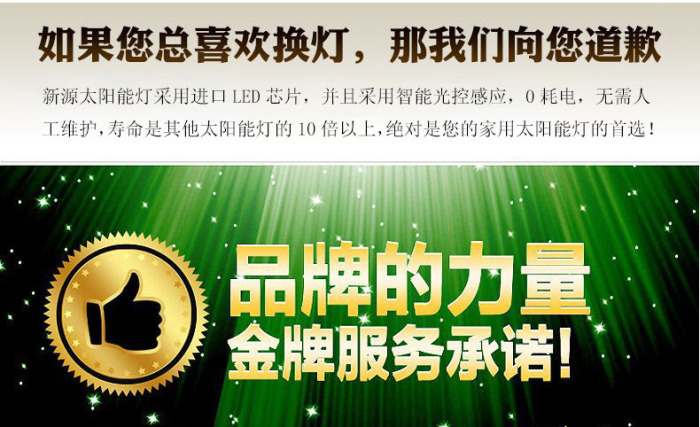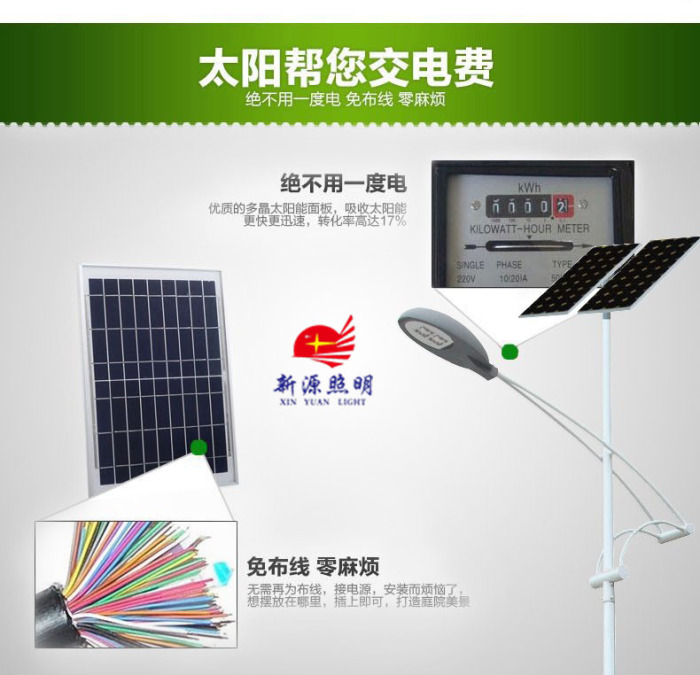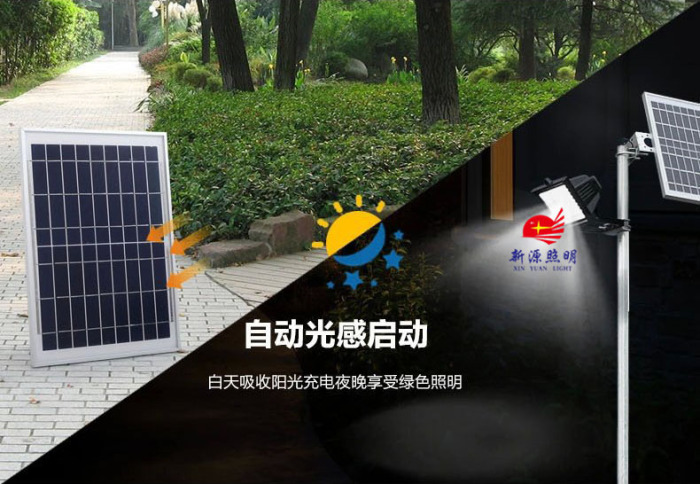 maintenance
1, due to the use of new equipment, maintenance is relatively simple, only regular equipment maintenance surface.
2, in the design to take into account maintenance convenience, inside the controller settings reserved port detection, by using the special equipment testing and replacement of faulty equipment.