Factory outlets, and large discount! Welcome to!
Contact:
Shop address: Yiwu international trade City District 69 , 3 /f, 4 Street H3-28313-2 booth
Address: Yiwu town Quay village in 23 35
Contact: Luo Chunsong Tel: three hundred and thirty five million nine hundred and thirty two thousand two hundred and six-nine hundred and six million seven hundred and ninety five thousand one hundred and ninety nineths
QQ : 115796489 wechat: 274400986
Website: http://ywcstz.1688.com


Due to the particularity of the drilling industry, spreads the pattern was not provided in delivery patterns, if you need to make goods or samples, can provide the pattern you need us, we help you design, layout! Pattern sizes vary due to each customer, and we are not the same as that offered by, so business shop price is for reference only, if necessary, you can contact us directly!
"Product name" hot map
"Hot figure material" Austrian drill and said Swarovski (SWAROVSKI), and DMC, and Middle East drill, and Han drill, and environmental drill, and domestic drill, and mirror drill, and shaped drill, and resin drill, and pressure acrylic drill, and octagonal tablets, and hot tablets, and PU hot tablets, and environmental hot tablets, and copper beads, and semicircular beads, and Pearl hot, and spent shaped hot tablets,
"Proofing duration" half
"specifications size" Can be customized according to customer needs
, "color" can be selected according to our colour cards, you can also provide color card
"Technology" handmade
"products" is commonly used in clothing, hats, blankets, and other clothing, clothing iron, hot hot drilling, lingerie, t-hot hot, hot towels, scarves, hats, hot, hot chart patterns, plans to sample processing all kinds of plans
"Customer groups"
First, suitable for garment factories, one garment plant, hosiery factory, hat factories, factory, mask, sleeves, scarves, cushion factory, shoe factory, textile factory direct purchasing.
Second, suitable for clothing accessories stores across the country.
Three, suitable for DIY creative fashion shop.
Four, with a large number of different models of stock, mainly for Taobao, cat, gather cost-effective retail sellers, one a pack wholesale price by bulk wholesale prices.
Supply hot chart, hot pressure: the company has a professional and excellent design and development team, selecting high quality raw materials, the use of sophisticated technology, professional design and manufacturing plans, free design proof, landing quick, high quality and low price. And to provide our customers with ease of product and service quality
Spring pine hot figurefactory is a professional production processing various environmental no lead imports aluminum hot tablets, and hot drill, and copper beads, and octagonal tablets, and semicircular beads, undertake big orders hot drill pattern, applies yú various clothing, and handbags, and shoes class, industry, can applies yú variety cotton cloth, can undertake large orders, price reasonable, and can undertake hot drill pattern, can according to guest provides of pattern, made various fine hot drill pattern. Welcome the new old customer incoming sample custom-made, long-term cooperation, first-class after-sales service, play version free of charge.
| | | | |
| --- | --- | --- | --- |
| Products | Stamping temperature | Printing time | RIP taking conditions |
| Korea Hot Chip | 140-160 degree | 8-10 seconds | Cold tear |
| Korea hot fix rhinestone | 150-170 degree | 10-12 seconds | Cold tear |
| Import semi bead | 150-180 degree | 10-12 seconds | Cold tear |
| Imports of star anise | 145-170 degree | 10-12 seconds | Cold tear |
| Imported aluminium beads | 150-180 degree | 10-12 seconds | Cold tear |
| Clothing hot map | 150-180 degree | 10-12 seconds | Cold tear |

Scalding hot drilling: making time: 2 days. Loft hours:3-5days. Bulk:7-20days. Note:No MOQ, the greater the number, the better the
Any patterns you can zoom in and zoom out, change color quality material, drilling hot stamping process, it should be noted that temperature, pressure, time element. Temperature control in the drill 160-170-usually, 15 seconds, the pressure 0. About 8PA.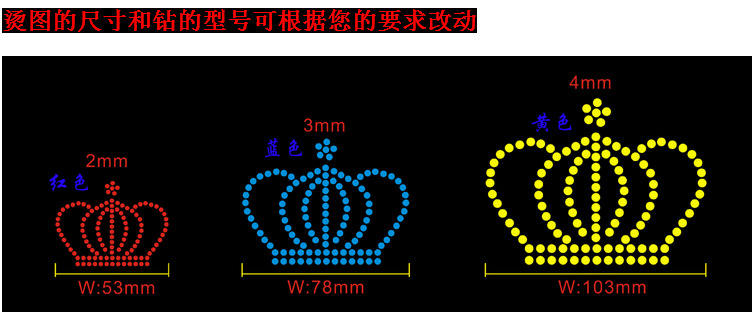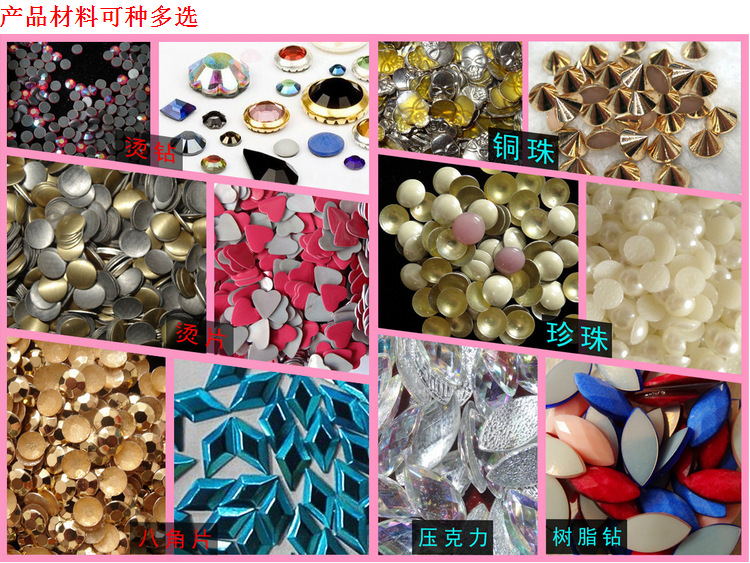 Main color: white, black, pink, pink, red, green, dark green, light purple, dark purple, light yellow, yellow, coffee, copper, blue, light blue, Baoji,
Kong Lan, deep yellow, orange-red, the water blue, transparent grey, Golden, olive, pink, rose red, apricot, lemon, Hy-Line, ink blue, violet, emerald green,
Crystal yellow, Tan, silver-mine, full color, size can support.
Due to our all baby pictures for the pictures, some photos will become slightly darker or slightly brighter reflection reflective. Some fine diamond products in different brightness, different angle shots showing different gloss. Physical map in their photos is unavoidable chromatic aberration, but none of the camera and the monitor can be hundred percent reflects the true colors of the items. This site had physical proof of each photo will be in accordance with the color, but in the light of different colors, different display color differences caused by goods, buyers cannot accept any color at all so please be sure to read this article and consider further purchases. Please take the material object as the standard, this site is absolutely brand new, and cheap!